Corporate Criminal Liability Not Fulfill the Rights of Persons with Disabilities
Keywords:
Criminal Sanctions , Corporate Crime , Corporate Criminal Liability , Persons with Disabilities
Abstract
This research aimed to review a corporate action which contains the elements of a criminal act that do not fulfill the rights of Persons with Disabilities and liability as stated in Constitutions Number 8 of 2016 concerning Persons with Disabilities. This research using normative law method, the approach that used is statute and conceptual approach. This research shows that the elements of corporate actions that have implications for criminal acts in this law are actions of corporate management acting on behalf of the corporation or the policies of the corporation that have ignored or prohibited persons with disabilities from obtaining their rights as stated in the law. The corporation accountability in Constitution Number 8 of 2016 concerning disability person there are 2 kinds, administrative sanctions and second, cumulative criminal sanctions, namely in the form of imprisonment and fines. Whereas, the concept of criminal liability against corporations used in this law is the corporation as a responsible policy maker and administrator, in the sense that the criminal act according to this law is violated by the corporation, the corporate management will be responsible according to the cumulative criminal sanctions contained in the law.
References
Ansori, Ade Nasihudin Al. (2020). Jumlah Penyandang Disabilitas Di Indonesia Menurut Kementerian Sosial. Liputan6.com. URL: https://www.liputan6.com/disabilitas/read/4351496/jumlah-penyandang-disabilitas-di-indonesia-menurut-kementerian-sosial.
Arief, Barda Nawawi. (2003). Kapita Selekta Hukum Pidana. Citra Aditya Bakti.
Clarkson, C.M.V. Understanding Criminal Law. 2-nd ed. London: Sweet & Maxwell,.
Colvin, Eric. (1998). Corporate Personality and Criminal Liability. Criminal Law Forum 6, no. 1, 1–44. URL: https://doi.org/10.1007/BF01095717.
Dethmers, F. and M.Y Winarno. (2010). Disabilitas Dan Perangkap Kemiskinan Dalam Carole Reckinger & M.Y Winarno (Eds.). A Bridge Over Troubled Water: Toward an Inclusive Society in Indonesia. Yogyakarta: Caritas Germany Country Office Indonesia dan Karitas Indonesia Keuskupan Agung Semarang.
Fakih, Mansour. (2004). Analisi Gender Dan Transfomasi Sosial. Yogyakarta: Pustaka Pelajar.
Geary, Rodger. (2002). Understanding Criminal Law. Oregon: Cavendish Publishing Limited.
Hanafi. (1997). Strict Liability Dan Vicarious Liability» Dalam «Hukum Pidana. Yogyakarta: Lembaga Penelitian, Universitas Islam Indonesia.
Heaton, Russel. (2006). Criminal Law Textbook. London: Oxford University Press,.
Kristian, Kristian. (2017). Jenis-Jenis Sanksi Pidana Yang Dapat Diterapkan Terhadap Korporasi. Jurnal Hukum & Pembangunan, 43, no. 2 (July 5). URL: https://doi.org/10.21143/jhp.vol43.no2.1485.
LaFave, Wayne R and Austin W. Scott Jr. (1982). Criminal Law. Minnesota: West Publishing Co.
Mahrus, Ali. Asas-Asas Hukum Pidana Korporasi. Edisi 1 Ce. Jakarta: Rajawali Press, 2013.
Dasar-Dasar Hukum Pidana. Cetakan 2. (2012). Jakarta: Sinar Grafika.
Moohr, Geraldine Szott. (2007). On the Prospects of Deterring Corporate Crime. Journal of Business & Technology Law 2, no. 1: 27.
Muladi, and D. Sulistyani. (2013). Pertanggungjawaban Pidana Korporasi (Corporate Criminal Responsibility). Bandung: Alumni.
Priyanto, Dwidja. (2004). Kebijakan Legislatif Tentang Sistem Pertanggungjawaban Korporasi Di Indonesia. Bandung: CV. Utomo.
R.M, Soeharto. (1996). Hukum Pidana Materiil: Unsur-Unsur Objektif Sebagai Dasar Dakwaan. Edisi Kedu. Jakarta: Sinar Grafika.
Reid, Sue Titus. (1995). Criminal Law. New Jersey: Prentice Hall.
Salim, Ishak. (2015). Perspektif Disabilitas Dalam Pemilu 2014 Dan Kontribusi Gerakan Difabel Indonesia Bagi Terbangunnya Pemilu Inklusif Di Indonesia. The POLITICS: Jurnal Magister Ilmu Politik Universitas Hasanuddin.
Santia, Tira. (2021). Pekerja Penyandang Disabilitas Di Indonesia Masih Rendah, Ini Penyebabnya. Liputan6.com. URL: https://www.liputan6.com/bisnis/read/4491209/pekerja-penyandang-disabilitas-di-indonesia-masih-rendah-ini-penyebabnya.
Setiyono, H. (2003). Kejahatan Korporasi: Analisis Viktimologis Dan Pertanggungjawaban Korporasi Dalam Hukum Pidana Indonesia. Malang: Averroes Press bekerjasama dengan Bayumedia Publishing.
Sjahdeini, Sutan Remi. (2006). Pertanggungjawaban Pidana Korporasi. Jakarta: PT. Grafiti Pers.
Stephens, Beth. (2009). The Amorality of Profit: Transnational Corporations and Human Rights. Berkeley Journal International Law.
Suhariyanto, Budi. (2016). Restoratif Justice Dalam Pemidanaan Korporasi Pelaku Korupsi Demi Optimalisasi Pengembalian Kerugian Negara. Jurnal Rechtsvinding, 5, no. 3: 202. URL: https://doi.org/http://dx.doi.org/10.33331/rechtsvinding.v5i3.153.
Surwanti‬, Arni. (2015). Potret Upaya Pemberdayaan Ekonomi Difabel Melalui Kewirausahaan Dan Pembentukan Koperasi.» Jurnal Difabel II, no. 1: 297–310.
Toruan, Henry Donald Lbn. (2014). Pertanggungjawaban Pidana Korupsi Korporasi. Jurnal Rechts Vinding: Media Pembinaan Hukum Nasional 3, no. 3 (December 31): 397. URL: https://doi.org/10.33331/rechtsvinding.v3i3.33.
Weissmann, Andrew, and David Newman. (2007). Rethinking Criminal Corporate Liability. Indiana Law Journal 82, no. 2: 411. URL: https://www.repository.law.indiana.edu/ilj/vol82/iss2/5/.
Zuhairi, Ahmad. (2015). Konstruksi Perlindungan Hukum Bagi Pengadu/Pelapor Kerugian Konsumen Dari Tuntutan Pencemaran Nama Baik Oleh Pelaku Usaha/Produsen. Jurnal IUS (Kajian Hukum Dan Keadilan), 3, no. 1: 55. URL: https://doi.org/http://dx.doi.org/10.12345/ius.v3i7.199. Legislations
Undang-Undang Nomor 41 Tahun 1999 tentang Kehutanan, Hal. 28, Tambahan Lembaran Negara Republik Indonesia Nomor 3888. Undang-Undang Nomor 8 Tahun 2016 tentang Penyandang Disabilitas.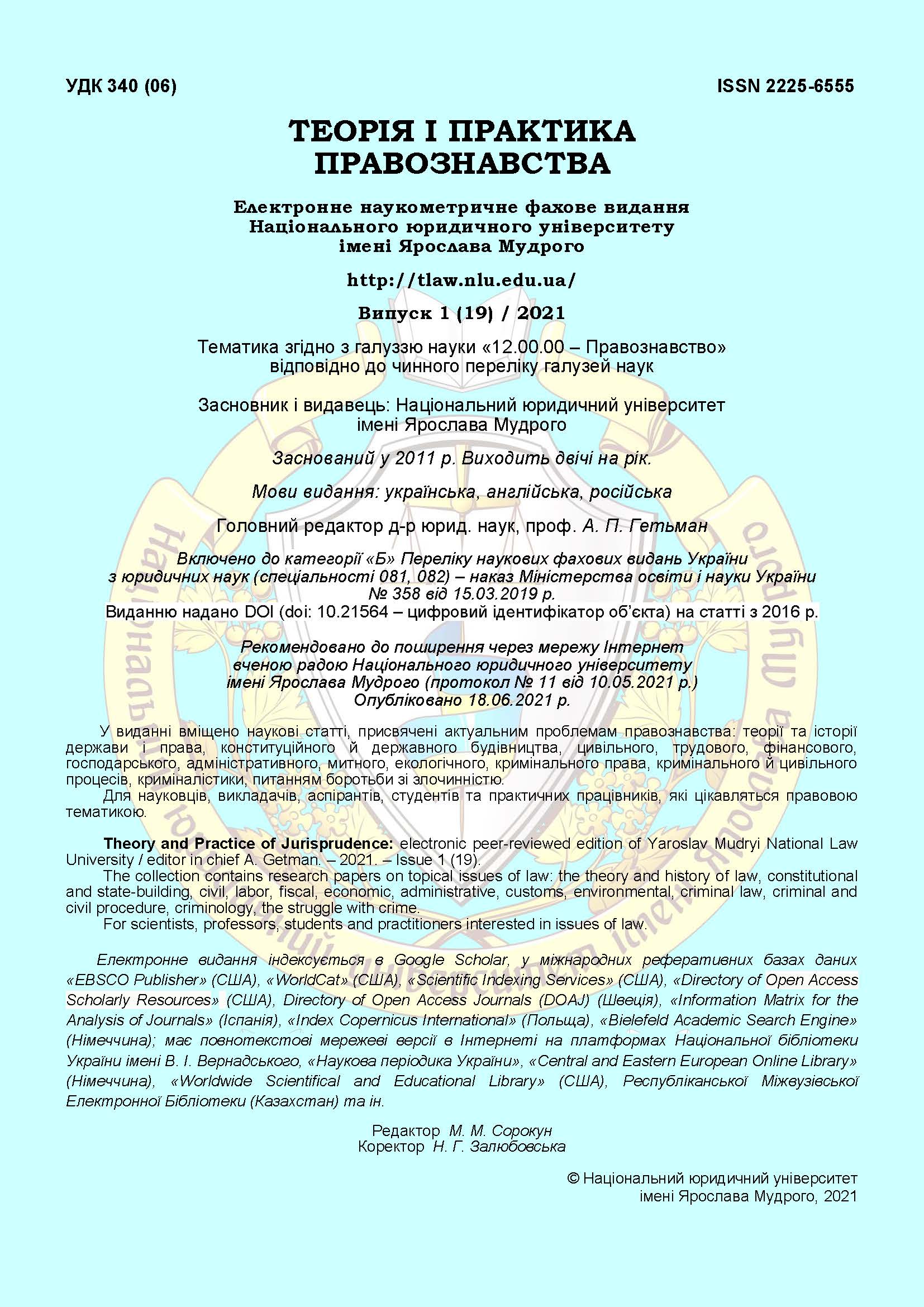 Downloads
Section
INTERNATIONAL LAW
License
Copyright (c) 2021 Efendi Jonaedi; Rijadi Prasetijo
This work is licensed under a Creative Commons Attribution 4.0 International License.