Are the anti-corruption bodies of Ukraine independent: an inside view
Keywords:
anti-corruption bodies, corruption, National Anti-Corruption Bureau of Ukraine, National Agency for the Prevention of Corruption, Specialized Anti-Corruption Prosecutor's Office
Abstract
Ukraine currently has a system of anti-corruption bodies. Of course, a similar system of developed European states served as a model in its formation. Anti-corruption bodies in Ukraine include: the National Anti-Corruption Bureau of Ukraine; prosecutors, the National Agency for the Prevention of Corruption, the National Police as specially authorized entities in the field of anti-corruption; as well as the Specialized Anti-Corruption Prosecutor's Office - specialized anti-corruption bodies. In general, their functions are considered.
Unfortunately, the independence of these bodies has not yet been achieved in Ukraine. This is due to many factors. Let's try to specify them. First, there is a lack or lack of specially trained specialists who will implement anti-corruption policy, have the appropriate qualifications and experience, and most importantly, are familiar with the issues of preventing and combating corruption. Secondly, the lack of experience given that these are newly created bodies. Of course, they study and take into account the experience of European and world practices, which, taking into account the traditions, customs and mentality, does not always work in Ukraine, where the nature of corruption differs from corruption in other countries. Third, the slow start of their activities due to the fact that their staff was formed for a very long time. Fourth, duplication of activities and lack of interaction between these bodies, which, incidentally, should be regulated by current regulations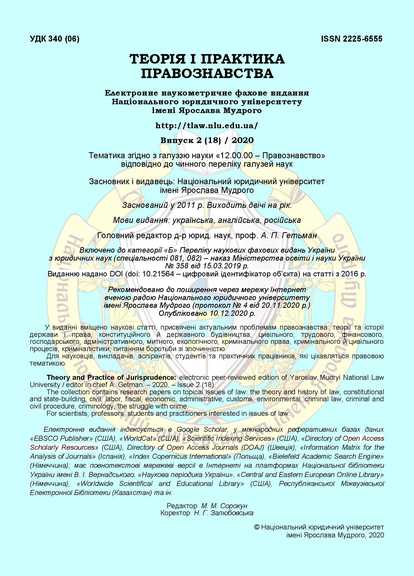 Downloads
Section
PUBLIC PROSECUTION SERVICE AND LAWYER
License
Copyright (c) 2020 Кирило Олегович Розсоха
This work is licensed under a Creative Commons Attribution 4.0 International License.
The author retains Сopyright without restriction under a Creative Commons License. A Creative Commons license gives every person and organization in the world a free, simple, and standardized way to provide copyright for creative and academic works and permits others to copy, distribute and use those works.