Trends in legal support for the use of blockchain technology and virtual assets
Keywords:
blockchain, blockchain platform, virtual asset, economic development strategy, cryptocurrency, cryptowallet, digital economy, decentralized register, Bitcoin, compliance officer
Abstract
Current approaches to determining blockchain technology and virtual assets' legal status are considered to form effective mechanisms of legal regulation for their use in Ukraine. The current trends in the regulation of blockchain technology and virtual assets by the world's leading countries and international financial institutions are analyzed. An analysis of the transformation of existing views on the definition of the blockchain's economic and legal nature is formed by both scientists and the international business community. Blockchain is a promising technology for many business areas, including law, financial sector, insurance, banking, real estate and many others due to certain advantages of blockchain, namely the general availability, distribution and complete reliability of the database. 
The increase in the scope of blockchain and virtual assets necessitates creating a legal framework for the regulation of relations in the field of application of systems based on this technology. Besides, attention is paid to the main vectors of economic development to create a useful model of the digital economy in Ukraine, which should be enshrined in the National Strategy for Economic Development, presented by the Cabinet of Ministers of Ukraine in 2021. Based on the analysis of the latest changes, additions and adoption of new laws by the Verkhovna Rada of Ukraine, the main advantages and disadvantages of using blockchain technology and virtual assets in Ukraine are systematized account existing international experience and recommendations of leading international institutions in this field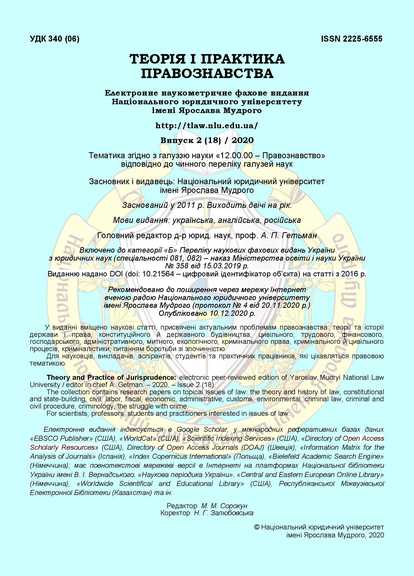 Downloads
License
Copyright (c) 2020 Дмитро Ігорович Погрібний
This work is licensed under a Creative Commons Attribution 4.0 International License.