Criminal policy forming as a scince of criminal legal cycle
Keywords:
criminal policy criminal legal policy, criminal law, science of criminal legal cycle, science forming
Abstract
The article is devoted to the consideration of the problems of the formation of criminal policy as «a science of the criminal legal cycle». Because of this, the author analyzed various approaches in the context of the historical development of the category of "criminal policy". The article demonstrates certain changes in the understanding of criminal policy, as well as identifies its types, which are already considered as separate categories, institutions or sections in «the sciences of the criminal legal cycle». It can be argued that such approaches allowed them to develop sufficiently. The author emphasizes that their development was not carried out simultaneously and with different goals, which leads to a certain imbalance and the need for changes in approaches in defining criminal policy.
Criminal policy as a science formed within «the sciences of the criminal law cycle», allows to explore a separate area of scientific knowledge about the causes and consequences of crime, which are aimed at strategic counteraction to crime by means of state and public influence through systematic reform of criminal justice in the distant perspective. The influence of criminal policy is already so significant that it allows to point out the already formed policies and strategies within the framework of criminal law, criminal executive law, criminal procedural law, criminology, criminalistics and forensic sciences. Moreover, these policies and strategies can be referred to as its types and, in their unity, significantly influence the lawmaking and law enforcement processes both in Ukraine and in other states
References
Ansel, M. (1970). Novaya sotsialnaya zaschita. Moscow: Progress [in Russian].
Aristotel. Metafizika. Perevody. Kommentarii. Tolkovaniya. S.I. Eremeev (Ed.). Sankt-Peterburg: Aleteyya, 2002; Kiev: Elga, 111 [in Russian].
Belyaev, N.A. (1986). Ugolovno-pravovaya politika i puti ee realizatsii. Leningrad: Izd-vo LGU [in Russian].
Borisov, V.I. (2012)_. Suchasna politika derzhavi u sferi borotbi zi zlochinnistyu ta yiyi krimsinalno-pravoviy napryam. Pravo Ukrainy – Law of Ukraine, 1-2, 233–241 [in Ukrainian].
Borisov, V.I., Fris, P.L. (2013). Ponyattya kriminalno-pravovoi polityki. Visnik Asotsiatsii krimInalnogo prava, 1 (1), 19, 15–31 [in Ukrainian].
Gogel, S.K. (2009). Kurs ugolovnoy politiki v svyazi s ugolovnoy sotsiologiey. V.S. Ovchinskogo, A.V. Fedorov (Eds.). Moscow: INFRA-M, 4 [in Russian].
Grischuk, V.K. (2011). Okremi pitannya kriminalnoyi politiki suchasnoyi Ukrayinskoyi derzhavi. Polititka v sferi borotby zi zlochinnistyu: aktualni problemi sogodennya: Materiali Vseukrayinskoyi naukovo-praktichnoyi konferentsiyi (Ivano-FrankIvsk, 25–26 lyut. 2011 r.). Ivano-FrankIvsk, 30–32 [in Ukrainian].
Dagel, P.S. (1982). Problemyi sovetskoy ugolovnoy politiki. Vladivostok: Izd-vo DVGU [in Russian].
Zakalyuk, A.P. (2012). Teoretichna harakteristika ta obhruntuvannya sistemi derzhavnoyi protidiyi proyavam zlochinnosti. Pravo Ukrainy – Law of Ukraine, 1-2, 216–227 [in Ukrainian].
Kozich, I.V. (2020). Kriminalno-pravova politika: funktsiyi ta funktsionuvannya. Ivano-Frankivsk: Suprun V.P. [in Ukrainian].
Liszt, F. fon. (1895). Zadachi ugolovnoy politiki, v izlozhenii Borisa Gurvicha. Sankt-Peterburg: Tipo-Litografiya K.L. Pentkovskogo, 2 [in Russian].
Lopashenko, N.A. (2009). Ugolovnaya politika. Moscow: Wolters Kluver [in Russian].
Marisyuk, K.B. (2013). Kriminalno-pravova politika u sferi maynovih pokaran v UkrayinI. Lviv: TrIada plyus [in Ukrainian].
Polischuk, D.A. (2014). Bazovyie paradigmyi sovremennoy ugolovnoy politiki Rossii v sfere zaschityi interesov pravosudiya. Moscow: YUNITI-DANA [in Russian].
Politika v sferi borotbi zi zlochinnistyu Ukrayini: teoretichni ta prikladni problemi. (2016). P. Fris, V. Harchenko (Eds.). Ivano-FrankIvsk [in Ukrainian].
Problemy ugolovnoj politiki: sovetskij i zarubezhnyj opit. (1989). A.V. Uss (Ed.). Krasnoyarsk: Izd-vo Krasnoyarsk. un-ta [in Russian].
Slovar po ugolovnomu pravu. (1997). A.V. Naumov (Ed.). Moscow: BEK, 595–596 [in Russian].
Feyerbah, P.A. (1810). Ugolovnoe pravo. Sankt-Peterburg: Med. tipografya [in Russian].
Fris, P.L. (2005). Kriminalno-pravova politika. Doctor's thesis. Kyiv [in Ukrainian].
Fris, P.L. (2017). Kriminalno-pravova politika. Velika ukrayinska yuridichna entsiklopedIya. Kharkiv: Pravo, Vol. 17: KrimInalne pravo. V.Ya. Tatsiy, V.I. Borisov et al. (Eds.). 477–480 [in Ukrainian].
Chubinskiy, M.P. (2010). Ocherki ugolovnoy politiki: ponyatie, istoriya i osnovnyie problemyi ugolovnoy politiki kak osnovnogo elementa nauki ugolovnogo prava. Moscow: INFRA-M, XII, 55–56 [in Russian].
Shepitko, M.V. (2014). Mesto kriminalisticheskoy strategi v svyazi s izmenchivostyu ponimaniya ugolovnoy politiki. Kriminalistika i sudebnaya ekspertiza: nauka, obuchenie, praktika. Kharkov, Vilnyus: Apostil, issue X, vol. 1, 154–164 [in Russian].
Yuridichna entsiklopediya. (Vols. 1–6; Vol. 3). (2001). Yu.S. Shemshuchenko et al. (Ed.). Kyiv: Ukr. entsikl., 397 [in Ukrainian]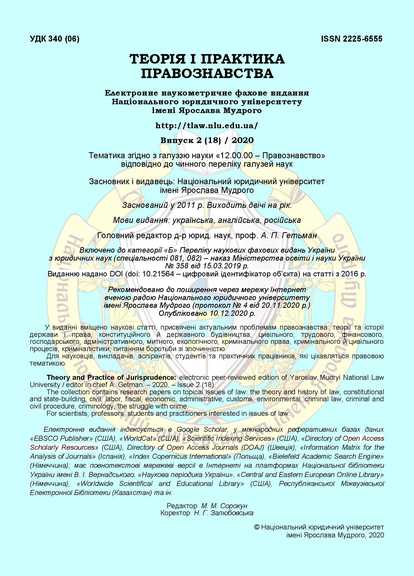 Downloads
Section
CRIMINAL LAW AND CRIMINOLOGY. CRIMINAL PROCEDURE AND CRIMINALISTICS
License
Copyright (c) 2020 Михайло Валерійович Шепітько
This work is licensed under a Creative Commons Attribution 4.0 International License.
The author retains Сopyright without restriction under a Creative Commons License. A Creative Commons license gives every person and organization in the world a free, simple, and standardized way to provide copyright for creative and academic works and permits others to copy, distribute and use those works.